In the run-up to Christmas we will be reviewing a whole range of stocking fillers for readers to chew over before dipping their hands into their pockets and doing their bit to combat the recession. This week we review two popular cameras at the ends of the range: the Tweetie Pie 5.5 Terapixel hand-held camera from Penchan and NASA's in-orbit astronomical camera known as the "Hubble Space Telescope".
We did a poll of readers and asked them what their preferences were for a digital camera and what they thought they could afford to buy a loved one this Christmas. Readers' concerns focussed (ha ha) mainly on the following aspects:
• Performance
• Quality
• Ease of use
• Documentation
• Reliability & Guarantees
• Cost & Availability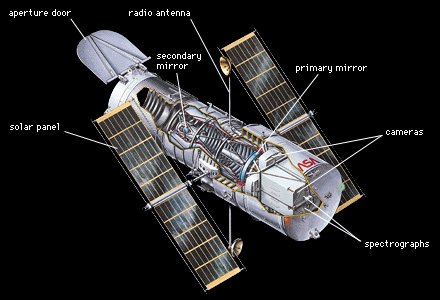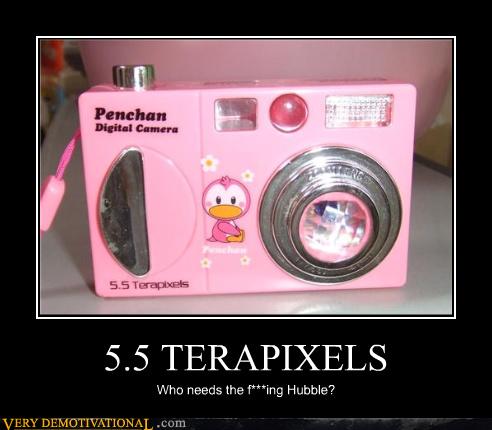 Performance.
It's not just the resolution of the CCD array chip in the focal plane; it's a whole raft of technologies, conditions and facilities which make the Hubble telescope infinitely superior to the Tweetie Pie. Taking lenses, stability, atmospheric distortion, light pollution, electronic noise reduction and subsequent image processing facilities into account, there really is no comparison between the two cameras and we have to give the Hubble a well deserved five billion stars and the Tweetie Pie a poultry (ho ho) one star.
Quality.
Given the harsh conditions the Hubble has to endure (especially during launch aboard the now retired Space Shuttle) and the almost unlimited funds available, it is no surprise that the quality of workmanship, materials, manufacture and testing of the Hubble are second to none. The Daffey Duck comes in a poor second here with its Barbie-doll artwork and its cheap plastic controls. Once again, we must give most of the points to the Hubble.
Ease of Use.
Despite its high specification and wide appeal, the Hubble Space Telescope is remarkably difficult to use and, worse still, difficult to get access to. Because of the stringent safety and security regulations, it is almost impossible for the average person to get authorisation to use the instrument, let alone navigate the maze of procedures needed to operate it. Even when all these hurdles have been surmounted, the pictures have to be transmitted to terrestrial ground stations and decoded, which is both expensive and time consuming. The Tweetie Pie on the other hand has no such restrictions and comes with a fully automated "dummies" mode for beginners and a USB plug'n'play adaptor. Five stars to Penchan, nil to NASA.
Documentation.
There are no public data on the Hubble documentation, but it is estimated there are over 200,000 pages of specifications and test results and approximately 12,000 procedures. The Penchan Huey and Dewey comes with a 25 page user manual and a handy pocket-sized guide for use in the field. Again, full marks to Penchan, nul points to NASA.
Reliability & Warrantees.
It is well known that the Hubble suffered flaws in the main optics, problems with gyroscopes and the breakdown of some of its specialised instruments. These were repaired in four shuttle missions at a cost of around a billion dollars (630 million pounds). There were no warranties and the mission was uninsurable. The Tweetie Pie has a five year guarantee and can be serviced at your local camera dealer.
Cost & Availability.
The Hubble Space Telescope programme cost approximately 2.2 billion dollars by the launch date and a further billion on repairs. It is not for sale, but can be hired for approximately £2,000 an hour, plus a further cost of £200 per gigabit of downlinked & processed data. The Tweetie Pie costs £45 from Amazon, with an extra £12 for a carrying case and USB connector.
Conclusion.
The Hubble Space Telescope is not for the beginner or the faint-hearted. Those wishing to display largesse at Christmas should realise they may be giving their loved one the biggest headache of their life (remember, no more shuttle missions!). We suggest that, unless they are an established astronomer with an international reputation, you should either buy them a small terrestrial telescope starter kit (see next week's review) or get them the Penchan Tweetie Pie. But please bear in mind: those hoping to take Hubble quality pictures of far-off galaxies with the digital Daffey in their Christmas stocking are set to be disappointed. Our final word on the matter is:
"You get what you pay for!"